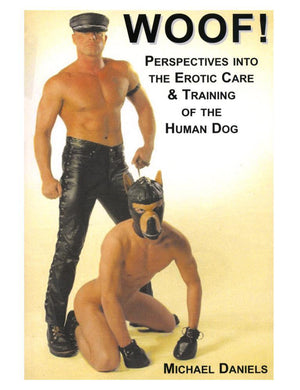 Woof! leads the way in informing and enlightening readers about the realm of human pups and their Handlers. Michael Daniels' book offers a wonderful, first-hand look at the hows and whys of human pups as well as guidance for their care and training.
He gives the dog play world a fully fleshed out manifesto filled with depth and heart, as well as thoroughly documented detail. (Also some wonderful bits of artwork and a bonus short story at the...ahem...tail end the the book.) If you have ever wondered what it would take to unleash your inner species, then "WOOF!" will open doors for you.
Topics covered are: Ethics, Why Human Dog Training, Roles, Definitions & Practical Considerations, Human Dog Behaviors, Gear, Care, Training, Commands, Scenes, References and Resources. A special erotic dog story has been added: A Dog's Tail.