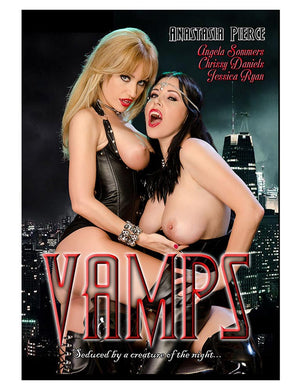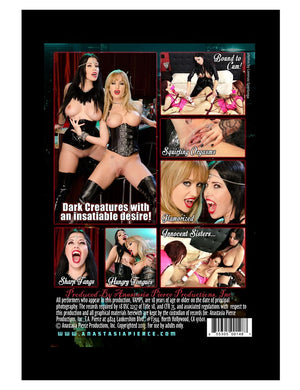 Vamps is a movie based on two beautiful vampires who explore their sexual sides The first scene with Angela Sommers is the epidemy of sensual girl on girl domination. A give and take scene with two powerful women who have an insatiable craving for each other FLESH!
It's slow, sexy, very visual and it will make you salivate. Their hands, legs and tongues discovering each other most amazing parts while keeping an eye on those erected sharp fangs. The excitement is obvious.
The story continues with Anastasia's squirting orgasm. Watch her explode like never before!
Then two innocent sisters arrive in town and never make it to the popular club because they get glamorized before they can. They suddenly find an powerful and un resistible desire for each other. All three (the vampire and the sisters) will get in a big bed and do the unthinkable. But first they will get bound for a double orgasm scene before the orgy can begin!
Starring: Anastasia Pierce, Angela Sommers, Chrissy Daniels & Jessica Ryan
Shotin High Definition