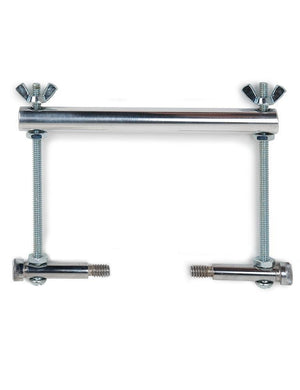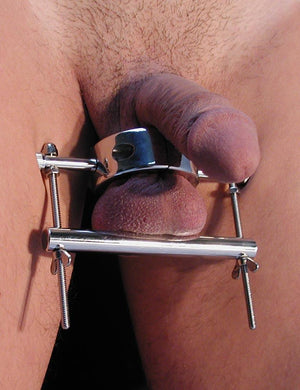 OK. This is S&M. This attachment is designed for use with the Separating Ball Stretchers, and it consists of a metal bar which is raised and lowered by turning a pair of wing nuts. This optional component makes the Separating Ball Stretcher into a true instrument of erotic torment and control.
Now, just in case it isn't OBVIOUS, be EXTREMELY, EXTREMELY CAREFUL in using this item. Nut crushing can be a hot fantasy, but turning it into reality takes real caution and sensitivity to the possibility of injury. Make sure you go slowly and you know what you're doing. This is a very tender part of the reproductive system, and considered precious by most men - hence the phrase "the family jewels."
To attach this component to the Separating Ball Stretchers, here's the short version of the directions: Just follow the picture, and BE CAREFUL.
Here's the longer version of the directions: The removable eyebolts must be removed from the Separating Ball Weights, so that the anchor screws can be screwed into the eyebolt holes. The long bolts then thread through the holes in the anchor screws, and the crossbar goes under the balls, with the wing nuts on the underside, and the small spacing nuts above. These small spacing nuts are intended to be used to set the spacing between the Separating Ball Stretchers and the crossbar below. They will stop the bar from pushing up further than intended, and will help you to keep track of where you are - and help you avoid getting carried away.
Using the wing nuts and the spacing nuts in combination, and proceeding slowly and carefully, it is possible to apply controlled and precise amounts of pressure to the balls from below. We guarantee the quality of workmanship for this item, but not the safety of its use. Your use of this item is at your own risk. Please be careful and use common sense.
The Crusher Attachment is sold separately from our Separating Ball Stretcher.