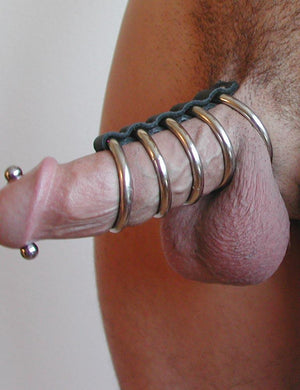 This device is used for male constraint/adornment.

It consists of a series of nickel-plated steel rings connected by a leather strap. The first, largest ring goes over the cock and balls, and the cock alone goes into the other rings.

The rings get progressively smaller, confining the penis. This 5 ring version starts with a 1¾" ring, followed by two 1½" rings and two 1¼" rings. The entire length is about 3".
SKU: J123
Note: This item is produced in-house by our leather team in Los Angeles. In-house items display as "In Stock," and in a majority of cases we do have current stock on hand, but if not, the items will be made to order for you, and our customer service team will notify you promptly regarding any anticipated wait (usually just a few days). You will have the option to cancel if you do not wish to wait. If other items in your order are available immediately, the order may be sent in multiple parts.