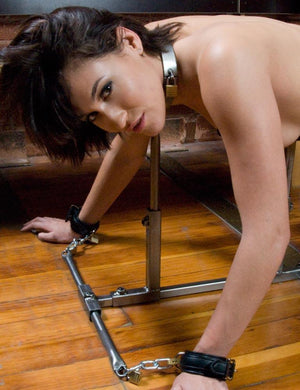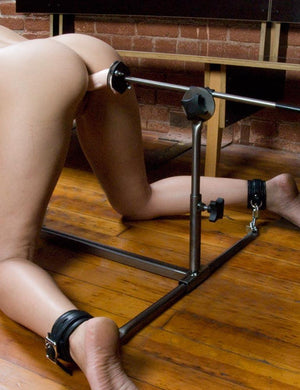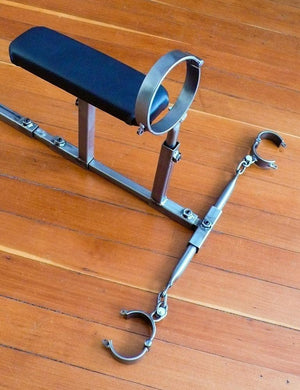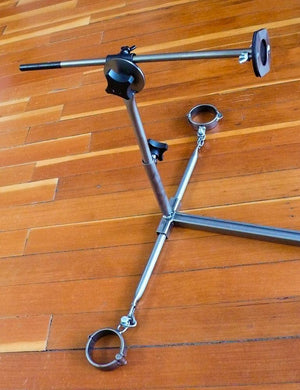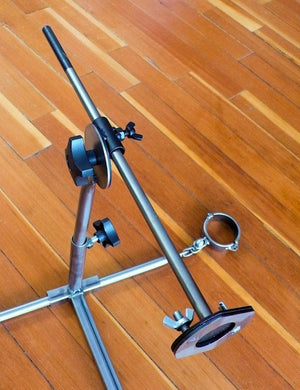 Presenting the Stockroom Stockade, the ultimate full body BDSM restraint system.
Relearn the meaning of the word "hardcore" with fully functional spreader bars, stockades, scavenger's daughters, fiddles, and impalers making the Stockroom Stockade a fearsome and versatile one stop bondage workstation.
The Stockade is made using high quality brushed steel. Each one has a clear finish that leaves the original welding marks for a rugged industrial look. The coating also makes it resistant to rust and easy to clean.
Versatility is what really separates the Stockroom Stockade from other devices. Its functionality comes from its removable sections and accessories making it completely modular and easy to reassemble. It comes with a set of four fully functional spreader bars, a set of five dungeon shackles, a chest rest and finally the devious fucking rod.
The Fucking Rod can be used for active penetration or as an added restraint. Height, length and angle are all easily adjustable, ensuring that you can orient the rod to your liking. Leave it loose for fucking, or for more refined confinement, insert anally or vaginally, then bolt it down. The Fucking Rod will accommodate dildos with up to a 2" inch diameter. Simply slide your dildo of choice through the circular opening of the first metal disc, leaving the base flush with the second metal disc, and then tighten into place.
This magnificent restraint system will let you set up your Dungeon with just one piece that would make the Tower of London envious. Its uses are limited only to your imagination and your subs ability to withstand constant torment and humiliation. Feel free to attach any of your own cuffs, collars, or implements to the Stockade. Its versatility is one of its best characteristics!
(Dildo sold separately. Allen Wrench Included. Leather cuffs pictured on model sold separately - she was scared of the metal shackles!!!)
No returns/exchanges will be accepted for this product. All sales are final.
* This item is not available for Express Shipping. International orders are subject to an additional shipping fee. You will be contacted with a quote for approval prior to charging the additional fee to your card.
Product Details:
(Measurements = approx interior circumference for all cuffs & collars in inches)
Base:
• Length: Adjustable, extends from 30"to appx. 44"
Spreaders:
• 2 x 12" Total Length
• 2 x 18" Total Length
Steel Shackle Set:
• (Collar) 5" Diameter/16" circumference
• (Wrists) 2 ¼" Diameter/7" circumference
• (Ankles) 2 7/8" Diameter 1" Wide/9" circumference
Collar Stand:
• Adjustable 8-13" Height
Torso Rest:
• 12" Length
• 4"Wide
• Adjustable 9-15" Stand Height
Fucking Rod Attachment:
• Length, Tip to Tip: 19"
• Thrust length: 14" max
• Dildo harness diameter: 2"
Height:
• 12" base extends to 17"