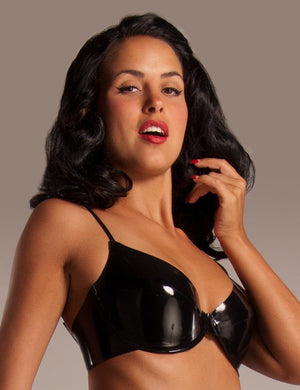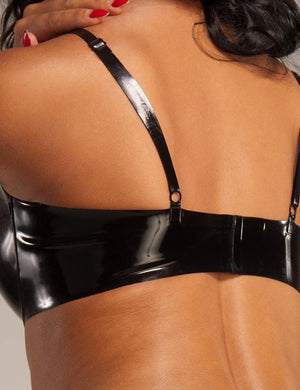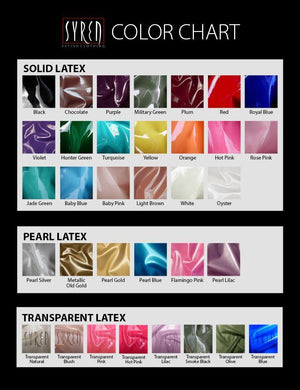 Important: Please use the measurement guidelines and chart on this page, as this latex apparel item fits differently than a conventional bra. Do not rely on your usual bra size measurements!
The Mila Bra provides support without sacrificing style. If you've searched long and hard for a latex bra that provides the same level of comfort and style as a conventional underwire bra, your journey is at long last at an end.
We've designed a beautiful and contemporary bra that features 20 gauge (.45mm) latex, stainless steel underwire, and adjustable straps with sliders to get the right fit for you. The band does not unfasten or adjust so be sure you know your size before you order!
Measuring for the Bra:
• Step 1: Measure your underbust. You will need a cloth measurement tape. Keeping your measuring tape parallel to the ground, measure around your body directly under your bust. Round all numbers to the nearest even whole number. Round down if you are unsure.
• Step 2: Measure your bust Keeping the measuring tape parallel to the ground, measure around the fullest part of your breast, without a padded bra. Round all numbers down to the nearest whole number.
• Step 3: Determine your cup size. Subtract your bust measurement from your underbust measurement and follow the chart below
Below 2" = A Cup
3" = B Cup
4" = C Cup
5" = D Cup
6" = E Cup
7" = F Cup
8" = G Cup
Example:
• Step 1: Underbust measures 32.5" Rounded down to 32" (that will be your underbust measurement)
• Step 2: Bust measures 36"
• Step 3: Bust - Underbust…..36 - 32 = 4
• Your size is a 32C
Not all bra companies use the same method for determining bra size. It is recommended that you follow this method to determine your size before making a purchase.
All Syren items are made to order, just for you, and will take 4-6 weeks turnaround time by our Los Angeles production team.
NOTE: For this item in a color or size other than listed in the dropdown menu, call us at 1-800-755-TOYS or 1-213-484-3882 or email info@stockroom.com to place your custom order. Please note that a custom surcharge fee will apply.
Syren is a recognized brand among both fetish fashion enthusiasts and filmmakers who have counted on the company to produce costumes for films such as Batman, Catwoman and Mr. and Mrs. Smith. Joining forces with the Stockroom.com latex designers, we are proud to announce that Syren products have exciting updated styles and improved manufacturing techniques that greatly increase the life of the garments. All Syren products are produced in Los Angeles.