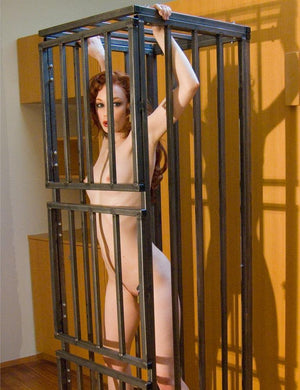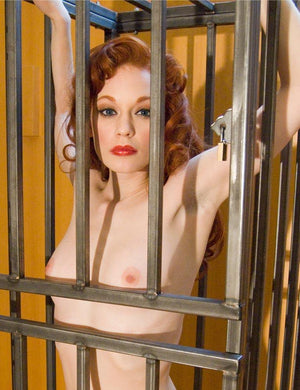 The Jail Cell Stand-Up Cage is the ultimate dungeon accessory. This security cage is perfect for keeping a human captive exactly where you want. You can stash your prisoner, slave, or submissive in this very attractive steel cage and won't need to worry about them escaping. This strong and secure jail cell locks in three different places to provide maximum confinement.
The Jail Cell Stand-Up Cage is easy to assemble. It is made up of eight different pieces that can easily collapse back down for storage purposes. The three doors open individually and independently of one another and lock securely with 3 separate padlocks (locks not included). Access to the separate sections inside the cage is granted by opening one door while other doors remain closed and locked. You can play with your prisoner while some doors are open and others are closed.
The sides of the cage are secured with 12 bolts each. The entire piece is constructed from top-quality welded steel. The steel bars are all 1" x 1" square steel. You can also use the cell laying down (horizontally).
Product Details:
• 6'4" tall
• 23" wide
• 25" deep
• 150 lbs.
The Eight Pieces :
Top (23" x 25")
Bottom (23" x 25")
Right (6'4" x 25")
Left (6'4" x 25")
Back (6'4" x 23")
3 front piece (23" x 23") doors

*Note: This item is available only in powder coat.
ALL SALES FINAL. Please order carefully and if you have any questions or concerns about this item, please contact our Customer Service. 
SHIPPING NOTES:
This is a drop-ship item. Orders may take up to 4-6 weeks delivery time. International orders are not available. The price of the item includes FREE SHIPPING within the continental US. Additional shipping fees may apply otherwise. Express shipping is not available for this item.