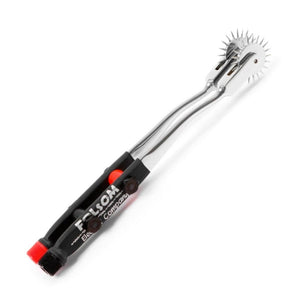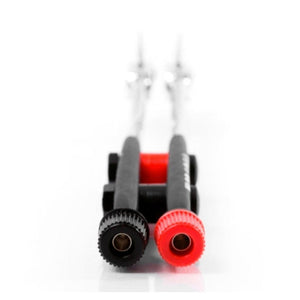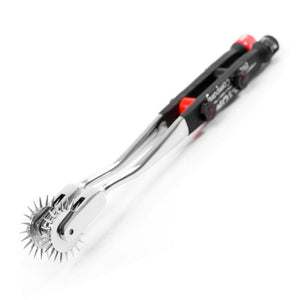 Sensation play to the max! That's what you get when you cross a double pinwheel and electricity. Pinpoint specific spots with the Bi-Polar Pinwheel Electrode by Folsom Electric Company who are the specialists in safe electrical devices that are designed for safe application when used with Folsom power unit Dual Output PSG-MAXThis Pinwheel Electrode's menacing and fierce spikes will send a buzz of pleasure and exciting sensations only possible with electro play. This is an advanced electrical device that should only be used by persons with electrical sensation play experience.
• 7.25 in/18.5cm in length • Pinwheel 1.125 in/2.75cm in diameter • Uses a standard Banana type plug
Safety and Usage
Directly from Folsom:
This product has been designed for safe application when used with Folsom Electric PSG 202 or PSG Max series boxes or similar devices designed for safe electrical play.
If you are not sure of compatibility of an electric box: DO NOT USE IT TO POWER THE PINWHEEL ELECTRODE until you have completely discussed the power box you are using with someone knowledgeable with it's electrical characteristics.
The user assumes all risks and liability while using this product.
This device should not be used with alternate power sources.
The safe use of this device is critically dependent on the voltage, current and frequency of the supplied power.
The manufacturer of this device has no control over what type power generator the user may connect or how it will be used, and therefore the user of this device assumes all risks associated with its use.
Do not use above the waist.
Safe to use with a water-based electrically conductive lubricant.
The pinwheel should be cleaned or sterilized prior to each use. Soap and warm water can be used or a complete disinfection can be done with Betadine, 10% bleach solution or a cold disinfectant. Do not use on more than one person at a time or pierce skin.