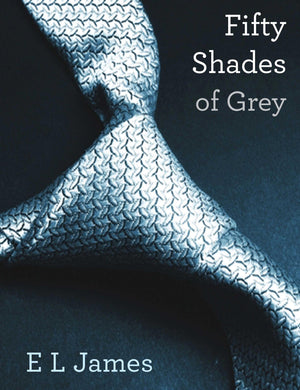 The Fifty Shades phenomenon is an unstoppable force bringing a sweet swirl of spicy BDSM kink to formerly vanilla readers. Here at The Stockroom, we love any excuse to heap on a healthy topping of ...um...Topping, so we are pleased to offer the literary sensation of the day: All 3 books in the Fifty Shades trilogy by E L James!
Fifty Shades of Grey
When literature student Anastasia Steele goes to interview young entrepreneur Christian Grey, she encounters a man who is beautiful, brilliant, and intimidating. The unworldly, innocent Ana is startled to realize she wants this man and, despite his enigmatic reserve, finds she is desperate to get close to him. Unable to resist Ana's quiet beauty, wit, and independent spirit, Grey admits he wants her, too—but on his own terms.
Shocked yet thrilled by Grey's singular erotic tastes, Ana hesitates. For all the trappings of success—his multinational businesses, his vast wealth, his loving family—Grey is a man tormented by demons and consumed by the need to control. When the couple embarks on a daring, passionately physical affair, Ana discovers Christian Grey's secrets and explores her own dark desires.
Fifty Shades Darker
Daunted by the singular tastes and dark secrets of the beautiful, tormented young entrepreneur Christian Grey, Anastasia Steele has broken off their relationship to start a new career with a Seattle publishing house.
But desire for Christian still dominates her every waking thought, and when he proposes a new arrangement, Anastasia cannot resist. They rekindle their searing sensual affair, and Anastasia learns more about the harrowing past of her damaged, driven and demanding Fifty Shades.
While Christian wrestles with his inner demons, Anastasia must confront the anger and envy of the women who came before her, and make the most important decision of her life.
Fifty Shades Freed
When unworldly student Anastasia Steele first encountered the driven and dazzling young entrepreneur Christian Grey it sparked a sensual affair that changed both of their lives irrevocably. Shocked, intrigued, and, ultimately, repelled by Christian's singular erotic tastes, Ana demands a deeper commitment. Determined to keep her, Christian agrees.
Now, Ana and Christian have it all—love, passion, intimacy, wealth, and a world of possibilities for their future. But Ana knows that loving her Fifty Shades will not be easy, and that being together will pose challenges that neither of them would anticipate. Ana must somehow learn to share Christian's opulent lifestyle without sacrificing her own identity. And Christian must overcome his compulsion to control as he wrestles with the demons of a tormented past.
Just when it seems that their strength together will eclipse any obstacle, misfortune, malice, and fate conspire to make Ana's deepest fears turn to reality.