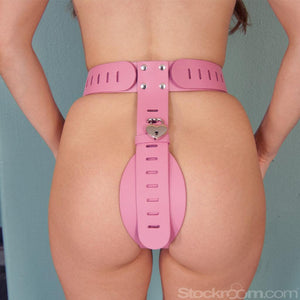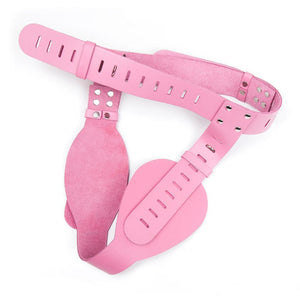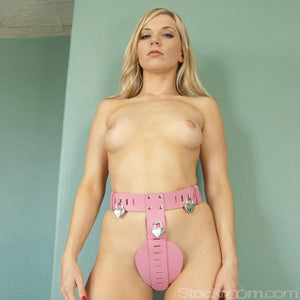 The Pink Deluxe Female Chastity Belt is a top-quality piece of pink leather BDSM fetish gear.
This deluxe model of our locking chastity belt has a waist belt and a second belt going between the legs which flare out in an hourglass shape around the crotch area, giving more coverage in the front and in back, while narrowing between the legs to conform to pelvic anatomy.
This leather harness is similar to our Strap-In Harness but is more of a full-fledged chastity belt for women.
Both belts are adjustable and lockable. The whole belt requires 4 locks (not included) to stay fastened.
Product Details:
• Fully adjustable up to 40" (101.6cm)
• The waist belt adjusts 23" to 40" (58.4-101.6cm)
• The crotch belt adjusts 25" to 38½" (63.5-98cm)
• Requires 4 locks to stay fastened (sold separately)
Note: This item is produced in-house by our leather team in Los Angeles. In-house items display as "In Stock," and in a majority of cases we do have current stock on hand, but if not, the items will be made to order for you, and our customer service team will notify you promptly regarding any anticipated wait (usually just a few days). You will have the option to cancel if you do not wish to wait. If other items in your order are available immediately, the order may be sent in multiple parts.