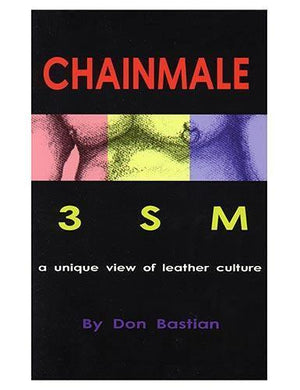 This fast-paced account of one man's experience with his own sexuality, and eventual involvement in a loving and successful three-way kink relationship, is uninhibited and honest. Flowing craftily between coming of age memories, thoughts and philosophies, and personal scene-related experiences, Mr. Bastian's autobiographical tale of how his 3SM family came to be is engaging and intelligent. Hot yet informative, Don Bastian's first full-length book is sure to be an instant classic.
A Daedalus Publishing title.
"It's clear that with Chainmale: 3SM, Don Bastian has given us something that is both fresh and refreshing. In a marvelous way, it reminds me of "our" first book, THE LEATHERMAN'S HANDBOOK by Larry Townsend….. Bastian's book 30 year later offers us his inner view of real experiences in real encounters which are also intemixed with his thoughts and observations of the Leathersex world… very well done!"
- Guy Baldwin, author Ties That Bind and SlaveCraft
A founding member of CLUB Calgary, Gathering of the Clans, and proud leather family member of the 3SM organization, Don Bastian has been active in the leather community for over a decade. Having held the titles of Mr. Northwest Drummer 1991 and Mr. NLA Ambassador 1995, Don has also been a judge and key member of many international leather events. Most notably, Don holds his leather family relationship with its 3SM members dearest to his heart.
Non-fiction / 5.5"x 8.5" / 120 pages