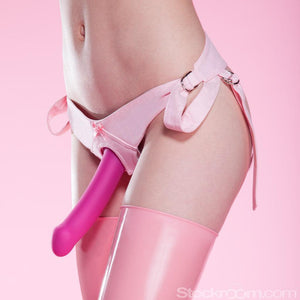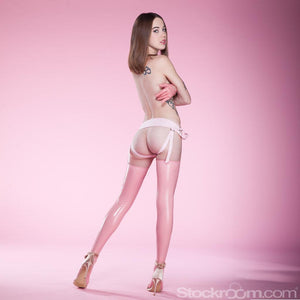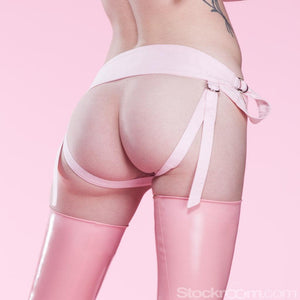 Innocent, pretty, and bratty- the pink Michelle Strapon Harness is bound to make anyone blush. This fashionable strapon harness is perfectly discreet and comfortable enough to wear underneath everyday clothes so that you and your lover can be ready for pegging play at a moment's notice! Vegan, and made of 100% cotton, The Michelle Strapon is a great addition to every Fem Domme's closet. Who knew that fashion could be so sexy?
Velvet Nest Harnesses introduce a whole new and stylish way to wear your strap-ons. The fully adjustable harness will accommodate nearly any size of a harness-ready dildo. Unlike standard strap-on harnesses, the Velvet Nest Harness does not limit the wearer to dildos with a flared base, and even allows for the use of dildos with balls. In addition, it plays well with insertable dildos like the Feeldoe or Sharevibe- enhancing the experience for the wearer, and subsequently their partners. Velvet Nest Strapon Harnesses are even compatible with KinkLab's rechargeable VibeRite and the Magic Wand.
To use: Simply insert your dildo through the front and secure in the unique Velcro docking system, no O-ring needed!
All harnesses are proudly designed and manufactured here in the USA.
Product Details:
• Made in the USA
• 100% Cotton
• Vegan
• Machine washable
• Velcro docking system fits dildos between 1.25in - 2in (3.18cm - 5.08cm) diameter
• Adjusts 34'' - 48''
SKU: J725
Note: This item is produced in-house by our leather team in Los Angeles. In-house items display as "In Stock," and in a majority of cases we do have current stock on hand, but if not, the items will be made to order for you, and our customer service team will notify you promptly regarding any anticipated wait (usually just a few days). You will have the option to cancel if you do not wish to wait. If other items in your order are available immediately, the order may be sent in multiple parts.