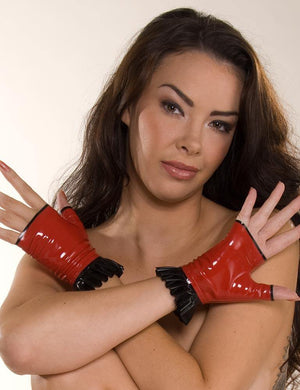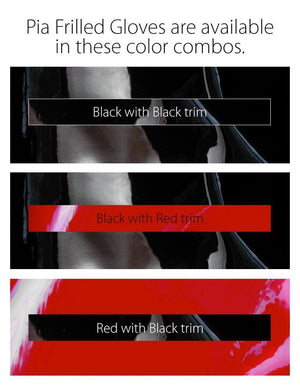 Sassy and endlessly feminine, the entire family of Pia latex begs to be worn in every color combination possible. The Pia Gloves™, with their edgy fingerless style offset by the girly frill, will become a favorite accent to any outfit from the first time you slip them on. Made with beautiful 14 gauge (.33mm) latex.
Product Details:
• Extra Small: Wrist: 5in/Knuckle:6in
• Small: Wrist: 5.5in/Knuckle: 6.5in
• Medium: Wrist: 6in/Knuckle: 7in
• Large: Wrist: 6.5in/Knuckle: 7.5in
• Extra Large: Wrist: 7in/Knuckle: 8in
All Syren items are made to order, just for you, and will take 4-6 weeks turnaround time by our Los Angeles production team.
NOTE: For this item in a color or size other than listed in the dropdown menu, call us at 1-800-755-TOYS or 1-213-484-3882 or email info@stockroom.com to place your custom order. Please note that a custom surcharge fee will apply.
Syren is a recognized brand among both fetish fashion enthusiasts and filmmakers who have counted on the company to produce costumes for films such as Batman, Catwoman and Mr. and Mrs. Smith. Joining forces with the Stockroom.com latex designers, we are proud to announce that Syren products have exciting updated styles and improved manufacturing techniques that greatly increase the life of the garments. All Syren products are produced in Los Angeles.