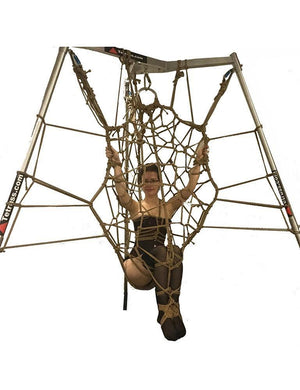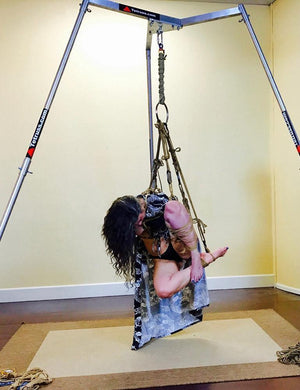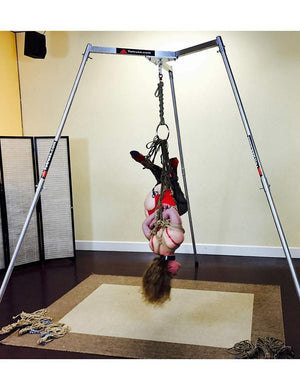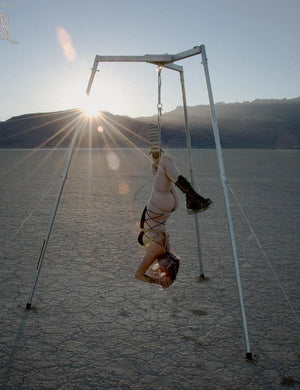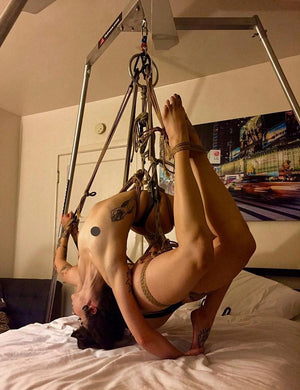 Take your Shibari experience even further with the Tetruss Maxximus suspension bondage frame. At a mere 33 lbs, it's almost as light and compact as the standard Tetruss while providing much more room to enact your bondage scenes. Turn your living room (or even a large hotel room) into your own custom dungeon with ease. The Maxximus opens up the 8" top of the standard model to a generous 42" spread, allowing you much more space to maneuver, swing, or manipulate the bottom. (Or if you like, a pair of them.)
The frame holds up to 300 lbs, allowing a lot of room for vigorous squirming, slapping, or thrusting, depending on where your passions take you. Get yours now, and unleash your kinky imagination without shame or limit.
Product Details:
• Height: Needs 8' ceiling space
• Width: 9'3" at base
• Weight: 33 lbs
• Assembly time: 10-15 minutes
Suspension cuffs/bondage gear sold separately.
Required hardware not included:
• Chains and clips required for spreader bar and 3 piece stirrups attachment
• 2x 24-inch chains
• 2x 36-inch chains
• 14x snap clips
• We recommend welded chain rated at 800 pounds and snap clips rated at 300 pounds.
Shipping Notes: This will be drop shipped directly from the manufacturer, separately from other items (please allow 1-2 weeks). Certain international orders are not available, please contact our Customer Service to inquire. Express shipping is not available for this item. The standard shipping rate within the U.S. is $69.
International customers: A shipping surcharge may be applied based on the delivery address. You will be contacted with a shipping surcharge quote, or you may inquire for details prior to placing your order. The standard international shipping rate is $129 for any country outside the U.S., Australia, and Canada. For Australia, it is $250 and for Canada, it is $89.