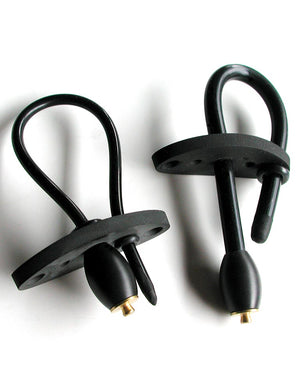 The Sparkler and Big Boy Sparkler are aptly named, due to the concentrated form of Erotic Electro Stimulation they produce. The original Sparkler is available in 1/8" diameter and the Big Boy has an increased diameter of 1/4". The Sparklers conform closely to the genital target area greatly increasing the effectiveness of PES Erotic Electro Stimulation. To ensure a secure connection point, the Sparklers have a newly designed top cap and connector terminal.
The Big Boy Sparkler and the Sparkler incorporate ElectroFlex Technology, allowing for penile, urethral and anal use in various configurations. The Sparklers are easy to disassemble and reassemble in new and exciting configurations.
An example of the flexibility provided by the Big Boy Sparkler and the Sparkler is the double electrode configuration. To develop a double electrode (using two Sparklers or Big Boy Sparklers or one of each) that will create an electro stimulus to the corpus cavernosa on each side, apply a non lubricated prophylactic holding the electrodes in place along the length of the penile shaft.
By using both a Big Boy Sparkler and a regular Sparkler you can create a new sensation caused by the difference in surface area between the different sparklers. Another configuration uses 4 Sparklers of any type, held along the corpus cavernosa by a non lubricated prophylactic. This configuration will stimulate the full shaft of the penis, permitting a hands free orgasm. An additional configuration is the HIGH HAT. This configuration uses a common non lubricated prophylactic in conjunction with a single sparkler or Big Boy Sparkler for urethral insertion.
For simple disassembly of the Big Boy Sparkler or the Sparkler, you will need needle nose pliers or large tweezers. For platform disassembly first gently pull the o-ring off. Next remove the platform. When using prophylactics, carefully remove the brass connector tip (the top most Part) with needle nose pliers or large tweezers. Once disassembled, the Big Boy Sparkler and Sparkler parts, along with all ElectroFlex products (except the LBM) may be cleansed in the dishwasher with mild detergent.
NOTE: Sterile KY Jelly may be used as lubricant for any urethrally inserted Sparkler or Big Boy Sparkler. Any Sparkler or Big Boy Sparkler that has been used anally should never be used urethrally. Big Boy Sparklers and Sparklers should be personalized and used only by one person.
Ready for use with The PES Powerbox
Requires PES Low Profile Leads for use with Folsom power unit Dual Output PSG-MAX
Not recommended for use with The Rimba Powerbox(s)
IMPORTANT NOTE: This is a single-electrode device (monopolar). Another single-electrode device (or dual-electrode type with "Y" adapter) is required for use.
This item is UNI-POLAR. Click here for more information.