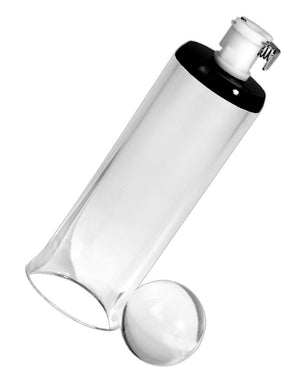 Not for the newbie! If you want to stretch out your foreskin, this should do the trick.
Take the foreskin and wrap it around the ball. Slide the foreskin into the cylinder. The ball will meet the rim of the cylinder, thereby isolating the foreskin in the tube (in other words, the ball is larger than the tube). Begin pumping. Elongated foreskin is on the horizon.
Even the manufacturer warns of discomfort, pain etc. But we know that you know what you like, and if you're looking for a pump that can provide some CBT perks, then this may be the cylinder for you. At the risk of being repetitive, let us say once again: experienced players only.
Product Details:
• Ball Diameter: 1.25 inches
• Circumference of Ball: 4 inches
• Internal Diameter: Appx. 1 3/8 inches
• Circumference of Cylinder Interior: Appx. 3.5 inches
• Length of Cylinder Interior: Appx. 4.5 inches
• Can be used by those with or without foreskin
• Stretching length is appx. 2 inches, results will vary
• Pump sold separately