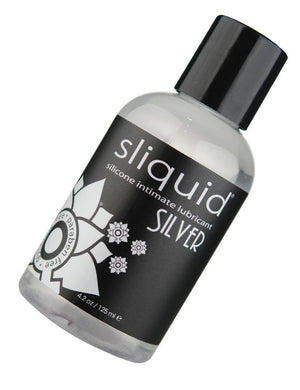 If the running time of your bedroom entertainment is more like Avatar than an episode of Seinfeld then you need a lubricant that lasts. Sliquid's Silver Premium Silicone lubricant is made from ultra-concentrated silicone and will do just that: last. Great for a sensual massage, it is hypoallergenic and scent-free and absolutely loves to be rubbed on rubber or latex. Never tested on animals, you can have hours of fun knowing that there are no extremely slippery bunny rabbits in a laboratory somewhere.
SKU: F825 - 2 oz/ 59 ml
SKU: D674 - 4.2 oz/ 124 ml
SKU: D675 - 8.5 oz/ 250 ml
Safety, Care, and Usage: Do not use if the product arrives with a broken or missing safety seal. Use as needed and discontinue use if irritation occurs. Keep out of the reach of children and clean up any spills immediately to prevent slips or falls. Not for use with other silicone products.