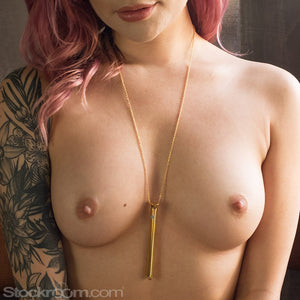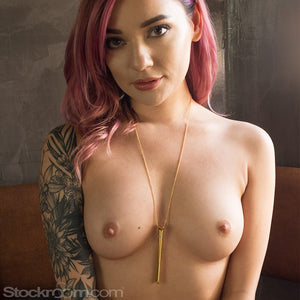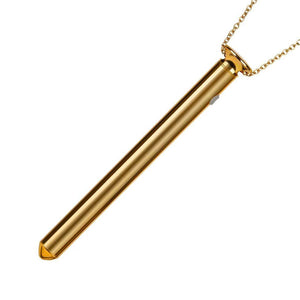 When you want to keep a discrete source of pleasure close at hand, Vesper is not only one of the most convenient options available, it is surely the most elegant. Finished in 24 karat Gold, this slim but sturdy vibrator comes with a 26" necklace chain so that it can be worn as a pendant.
Lovingly crafted by the female pleasure artisans at Crave, the Vesper portrays itself as a striking piece of minimalist jewelry, appropriate for a dinner party or business meeting. If the meeting becomes dull, or a few sparks fly at the party, you can slip away to someplace quiet and enjoy the Vesper's more pleasurable aspects: four speeds of sensual vibration power with a whisper-quiet motor. When your vibe needs more power, you can just plug it into a USB adapter to recharge.
Product Details:
• Vibrator Dimensions: 3.8" x 0.5" (9.7cm x 1.3cm)
• Chain Length: 26" (66cm)
• Stainless Steel with 24kt Gold plating and chain
• USB Rechargeable
• Single button use with four speeds
Shipping Notes: This will be drop shipped directly from the manufacturer, separately from other items (please allow 5-7 days). Certain international orders are not available, please contact our Customer Service to inquire. Express shipping is not available for this item.