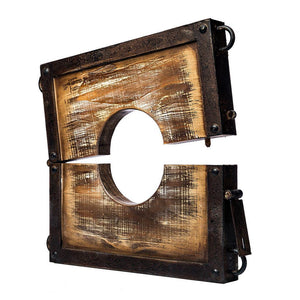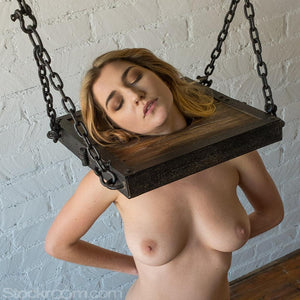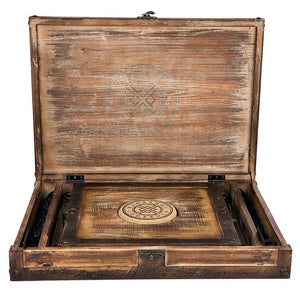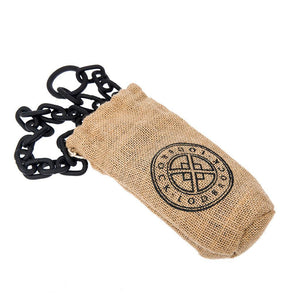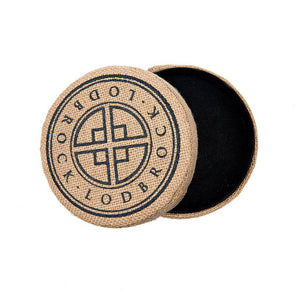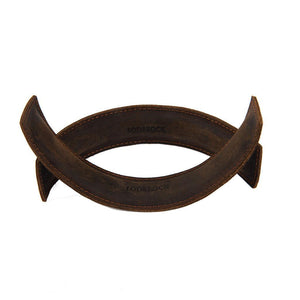 Made from aged New Zealand pine wood, the Schlossmiester Neck Stockade Set is solid and stylish. All hinges and hasps on this neck restraint have been stamped and machined using heavy-duty materials to ensure longevity and safety during rough play.
This set includes two padded neck inlays. Held in place by strong magnets, the comfortable leather inlays can easily be removed for people with larger joints. This neck stockade set also comes with two canvas sacks containing 6.5' x 5.9' of heavy-duty chains and 8 bow shackles made to the same high standards. Also included are two premium-grade steel mounts for fastening chains to ceilings or joists. The metal is casted in-house, and the stamp assures you of quality workmanship.
Contents include...
1 x Neck Stockade
2 x Ceiling Mounts
2 x 5.91ft Chains
8 x Bow Shackles
2 x Chain Triangles
1 x Canvas Box
2 x Leather Neck Inlays
1 x Security Pin
1 x Case
Every item is handmade – surface textures and absolute dimensions may differ slightly.
Ideal for…bondage, BDSM, medieval roleplay, viking roleplay, Domination and submission.
Product Details:
• Neck Stockade: 18.1" x 15.75" x 1.97"
• Box: 24.1" x 16.1" x 3.9"
• Neck Stockade Hole (without inlays): 18.5"
• Materials: New Zealand pine, cedar, steel, real leather, canvas
SHIPPING NOTES:
Certain international orders are not available, please contact our Customer Service to inquire. Express shipping is not available for this item.
CARE & USAGE DISCLAIMER:
The Medieval Dungeon Schlossmeister Line was designed with an antiquated style in mind. Over time and with use, some chipping may occur to some surfaces. This is intentional and enhances the antiquated look and feel of the products. If you prefer a continuous black look and some chipping has occurred, simply use a black edging marker pen to touch up the relevant spot.