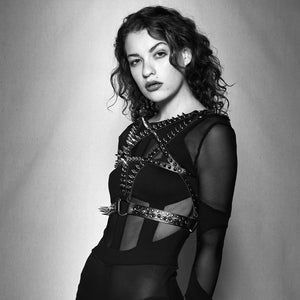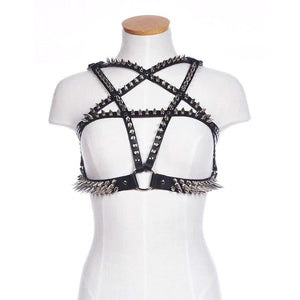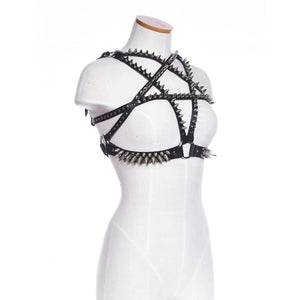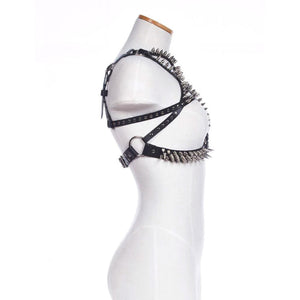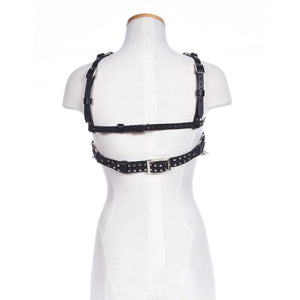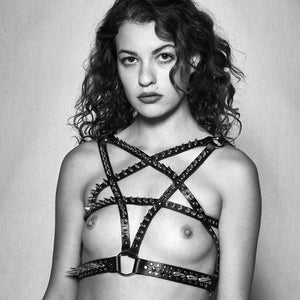 The spikes on this high-quality, leather harness sparkle in the light, but will prick anyone who gets too close for comfort! The Spiked Pentagram Harness sits high on the chest, fastening from behind with two adjustable shoulder straps, and two back straps to ensure a comfortable, secure fit.
The Spiked Pentagram Harness's spikes are made with 100% American steel. Handmade in Los Angeles, it looks great on its own during BDSM scenes and bondage play, worn in reverse as a back piece, or layered over everyday threads.
Ideal for…: BDSM, bondage play, BDSM fashion, everyday style, Dommes, Doms, submissives, slaves.
Product Details
• Made of high-quality leather, nickel and steel
• Sizing: XS/S - Bust: 29"-35", Waist: 23"-27", Hip: 31"-36"
   M/L - Bust: 36"-39", Waist: 28"-31", Hip: 38"-41"
• Handmade in Los Angeles
SKU: G478 (XS/S)
SKU: G479 (M/L)