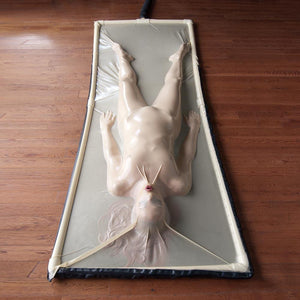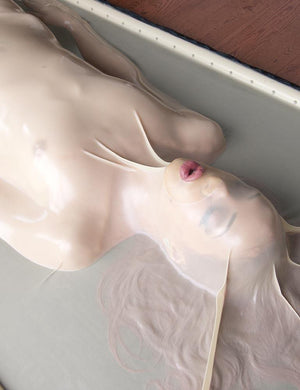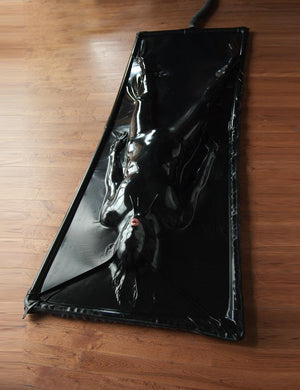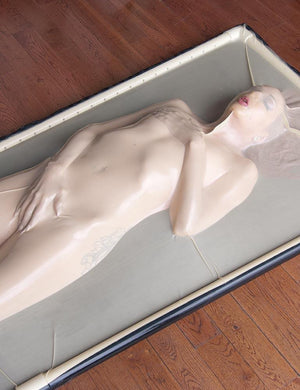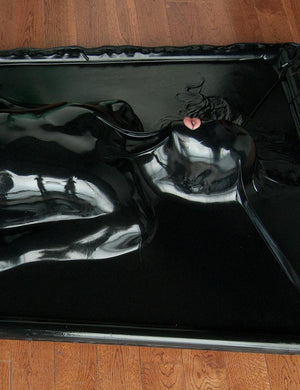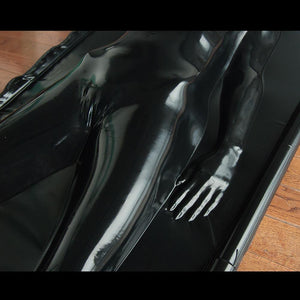 Our Latex Vac-Bed is designed especially for those in search of the most intense bondage adventure possible! By vacuuming the air from between two layers of 14 gauge latex rubber, the vac-bed immobilizes the person inside and produces an extremely restrictive and sensual experience.
The Vac-Bed comes with its own 1½" PVC frame with holes drilled along the inside to spread the force of the vacuum. A 95" by 35" 14 gauge latex sack, with a zipper that runs along one side, fits snuggly over the PVC frame. At the bottom is a reinforced hole for a vacuum cleaner attachment, and another reinforced hole is placed closer to the top for a breathing tube.
To use the Vac-Bed, place your bondage partner inside and check to see that they can breathe safely thru the breathing hole. (We recommend using a hollow gag so that there is no chance of the breathing hole slipping and restricting the flow of air.) Close the zipper that runs along the side of the Vac-Bed, and make sure that your bondage partner is comfortable before attaching the vacuum cleaner to the connector at the bottom. The 1⅝" PVC connector will fit most household vacuum cleaners. (If you need to adjust the size of the connection, adapters can be found in the plumbing section of any hardware store.)
Attention International customers: A shipping surcharge may apply.
When the vacuum cleaner is switched on, all of the air will be rapidly and evenly removed from all sides, instantly "shrink wrapping" the person inside! Keep the vacuum on to retain this confined state.
It is important to check to make sure that the person inside the Vac-Bed is breathing well and that they are not experiencing any discomfort before continuing. Also, the Vac-Bed is only air-tight as long as the vacuum cleaner remains turned on.
WARNING: Caution should be taken when using the Vac-Bed. Never leave anyone unattended in the Vac-Bed, and never use this device for self-bondage.
All Syren items are made to order, just for you, and will take 8-12 weeks turnaround time by our Los Angeles production team.
NOTE: For this item in a color or size other than listed in the dropdown menu, call us at 1-800-755-TOYS or 1-213-484-3882 or email info@stockroom.com to place your custom order. Please note that a custom surcharge fee will apply.