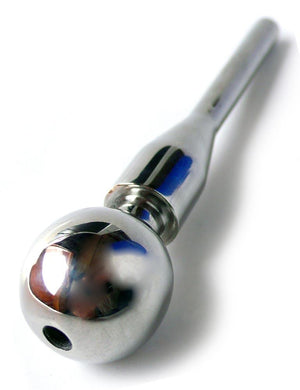 Whether you're into urethral sounding or are looking for a striking piece of cock jewelry, this visually commanding stainless steel penis plug is the perfect tool. The large, highly polished ball at the end sits at the tip of the penis when the plug is inserted. The ball prevents the plug from slipping down too far into your urethra.
The shaft has a subtle taper for easy insertion; we recommend applying a little sterile medical lube to the shaft, like SurgiLube, so the toy glides in more easily. If you or your partner are into male urethral insertions, this stunning design will be sure to excite you both.
Product Details:
• Total Length: 3.25in./8.3cm
• Insertable Length: 2.75in/7cm
• Shaft Diameter: .5in/1.3cm
• Shaft is hollow like a tube
• Made out of surgical-grade Stainless Steel
Never sleep in this or other cbt toys. Wash with antibacterial soap and water after each use.