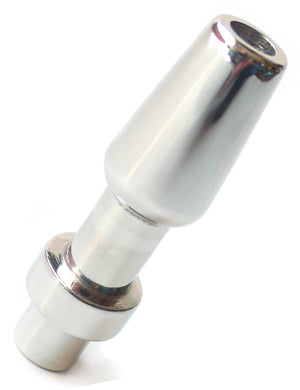 The Open ZZ Penis Plug is a funnel-cone shaped, insertable urethral plug that promises to keep the penis open nice and wide. It is an innovative, hollow, metal penis accessory constructed from medical grade stainless steel. This is a sexy piece of additional decorative plumbing that is an ideal device for men and their partners who enjoy urethral stimulation and play, sounds, penis plugging games, inserts, and CBT.

The beauty of the cone-funnel shaped Open ZZ Penis Plug is that it has a central hole running all the way through; allowing the wearer or their partner to insert additional slimmer sounds of a smaller diameter into and through the ZZ plug. This also allows the wearer to urinate comfortably without having to remove the penis plug.

Precision made from high quality, medical grade, polished stainless steel, it is very cool looking while also a highly functional cock torture and training play tool. This accessory is just the thing for males who want to keep the penis open wide, and enjoy sounding, and cock torture play. An open penile insert is great for serious urethral training and perfect for extended periods of wear and use.

Stainless steel will not tarnish or stain because the metal does not oxidize. It looks cool and sleek, is non-allergenic, and incorporates no other alloys.
Product Details:
• Min Diameter: 0.3in (0.8cm)
• Max Diameter: 0.5in (1.19cm)
• Min Circumference: 1in (2.5cm)
• Max Circumference: 1.5in (3.8cm)
• Total length: 1.65in (4.2cm)
• Insertable length: 1.2in (3cm)
• Diameter of central hole: 0.25in (0.6cm)
Safety, Care, and Usage:
This toy must be cleaned after use. We highly recommend using surgical lube with this product. This penis plug is simple to clean using just antibacterial soap and warm water. Let air dry after cleaning and please always play safely.