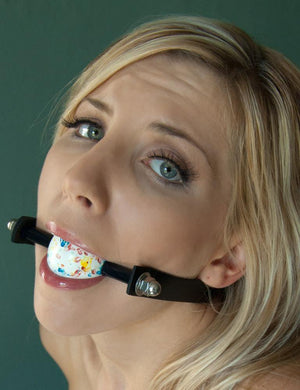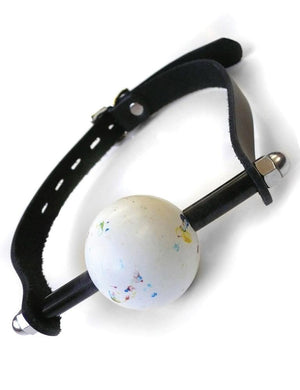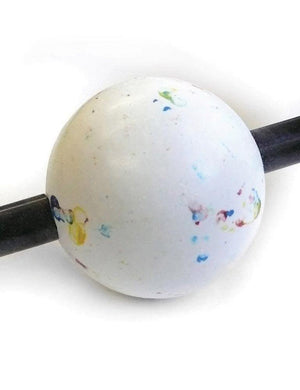 The new patent-pending Jawbreaker Gag™ offers a sweet variation on an item long utilized in fetish sex. Rather than strapping the classic rubber ball into the mouth, this new version uses a ball made from real, edible jawbreaker candy.

Sweet and fun, but also functional (and a little kinky!) this gag serves as a colorful entrée for those curious about BDSM, or a novel substitute for regular practitioners bored with the usual ball gags on the market.
A nylon tube threaded through the candy ball and secured to the soft leather straps makes disassembly for care and cleaning of this gag quick and easy. One size fits most.

Don't forget to order replacement candy, for when your sub sucks the other one into oblivion!
Please read the following:
For novelty use only. Actual use can cause heavy salivation which can lead to choking. If used wearer should be upright and monitored heavily. Do not use while in any position other than upright and make sure wearer has hands free and is able to remove gag themselves.


Note: This item is produced in-house by our leather team in Los Angeles. In-house items display as "In Stock," and in a majority of cases we do have current stock on hand, but if not, the items will be made to order for you, and our customer service team will notify you promptly regarding any anticipated wait (usually just a few days). You will have the option to cancel if you do not wish to wait. If other items in your order are available immediately, the order may be sent in multiple parts.