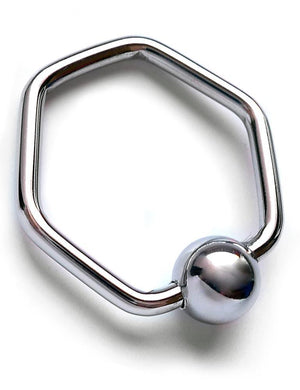 The Hexa Glans Ring is a glans ring that is stainless steel and has a hexagonal shape and smooth edges. It is very simple to use and fits firmly around the penis head in a completely secure fashion. The ball is strategically placed to apply pressure in the best way possible that completely maximizes the intensity of the male orgasm and can add extra pleasure and stimulation to the vagina during sexual intercourse. This cock head ring is very pleasing to the eye and also works as a penis ornament and accessory.

The Hexa Glans Ring is constructed from top quality, heavy, medical grade, stainless steel that will not tarnish or stain because the metal does not oxidize. Stainless Steel is easy to clean, non-allergenic, and incorporates no other alloys.

Safety, Care and Usage:
The Hexa Glans Ring is very easy to clean using just antibacterial soap and warm water. This toy must be cleaned before and after every use.