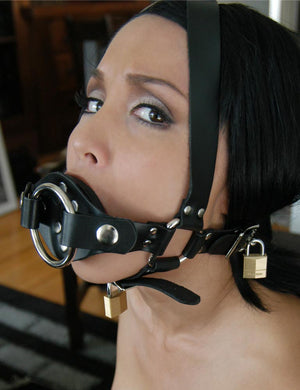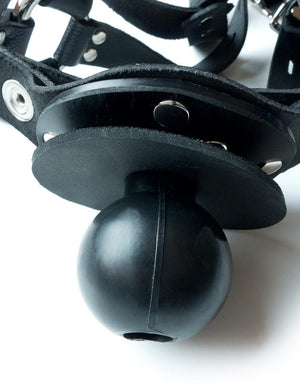 Starting with the original Locking Trainer Ball Gag design, which features a locking, black leather strap, and a non-toxic black rubber ball mouthpiece, we have added a dildo ring to the front of the mouth gag, giving you the option of strapping a dildo onto the front.
The nickel-plated ring is 2" in diameter, and it attaches with snaps. This ring size will work with most dildos, so long as they have a flat base.
For very large or very small dildos, it is possible to substitute different-sized rings. Dildos and larger/smaller rings are sold separately. The ball gag is usable with or without a dildo strapped onto the front.
Product Details:
• Horizontal strap circumference: 16.5-24in (41.9-61cm)
• Vertical strap circumference: 21-25in (53.3-63.5cm)
• Top of head strap length: 9-16in (22.9-40.7cm)
• Available in Black
• Locks can be added to the buckles for extra security, but are not necessary (sold separately)
Note: This item is produced in-house by our leather team in Los Angeles. In-house items display as "In Stock," and in a majority of cases we do have current stock on hand, but if not, the items will be made to order for you, and our customer service team will notify you promptly regarding any anticipated wait (usually just a few days). You will have the option to cancel if you do not wish to wait. If other items in your order are available immediately, the order may be sent in multiple parts.